Rooms & Rates
Presidential Suite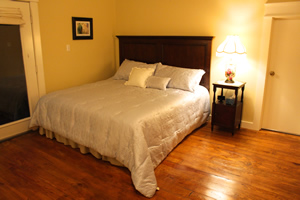 PhotosReserve NowFrom $179 per night.
The most spacious suite at Clark House with a very large, elegant and dramatic bedroom encompassing the complete privacy of the third floor. A king size presidential bed welcomes you. A unique French armoire, large flat screen TV and full couch, coffee table and sitting area offer abundant space with complete privacy. A small second bedroom exists and provides a separate yet attached room for guests. The secondary quarters have a separate door for privacy and a small twin bed. An individual cooling and heating system is adjusted to your request and an exclusive top level balcony is accessed through the French doors. Our largest private bath offers everything you demand and a unique dressing mirror adorns the wall.
Stained glass windows and high arched ceilings give the suite unique and relaxing light and welcome you back again and again. Spacious luxury and privacy give this unique suite the grandeur of true Presidential accommodations.
Regency Room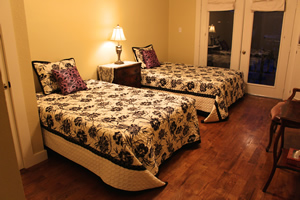 PhotosReserve NowFrom $139 per night.
A most efficient room providing guest with two full size elegantly appointed beds. French door balcony access exists with two classic arm chairs providing an area to get organized. Very popular in design, this room will meet all your needs and leave you rested and ready to return for another stay.

Abbi's Garden Song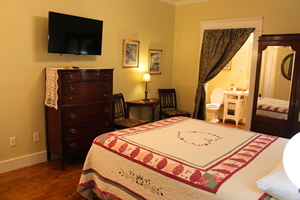 PhotosReserve NowFrom $109 per night.
Walk into relaxation and treat yourself to the luxury appointments of this beautiful light and bright ground floor suite. A majestic Ralph Lauren inspired queen bed invites you to relax and sleep. Mahogany furniture provides beauty and convenience in this exquisitely appointed room. A five window sitting and reading area provides a restful and relaxing spot to unwind and enjoy the peaceful and timeless luxury of a private suite fully appointed. A walk-in shower, crown molding, a unique French mirrored armoire and the designer inspired queen bed provide true beauty, quality and comfort to this enchanting suite. This room is also ADA compliant, and equipped with reading lamps and a flat screen TV. Enjoy the quiet and take in the peaceful views of the garden just outside your windows.
Georgian Suite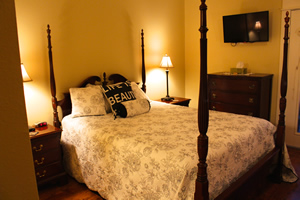 PhotosReserve NowFrom $109 per night.
Located on the second floor at the center of the house, this comfortable and private suite provides ample room for a guest to work, relax, read or just get a great nights rest. A private room with a prominent historic oak desk, luxurious large queen four post bed and French doors lead to the balcony access. Two night stands, a mahogany chest of drawers and beautiful lamps provide an elegant setting. A very appealing room for even the most sophisticated traveler.
Ty's Music Room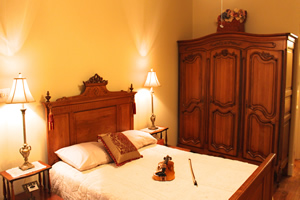 PhotosReserve NowFrom $109 per night.
A classic violin welcomes you into this enchanting bedroom suite featuring a full size beautiful antique oak bed reminiscent of old world elegance and modern comfort. Relax, read or just rock away your worries in a beautiful and comfortable antique rocking chair. A unique triple oak armoire creates an atmosphere of warmth and elegance. Enjoy the view of the first level patio and exterior grounds and gardens from this large luxury suite.
Within each and every suite at Clark House guests can expect warm and ample lighting, a ceiling fan, a full private bathroom with sink, mirror, toilet, bathtub/shower combination, storage space, a wall mounted flat screen television with free cable and Wi-Fi. Luxury bedding and high thread count 100% cotton sheets. High-end luxury pillows are standard. Classic crown molding and restored 100 year old hardwood flooring exists throughout this beautiful property. All upper floor rooms have direct access to a beautiful balcony that provides seating and direct views of the gardens, Koi pond and outdoor fireplace patio area.
Victorian Suite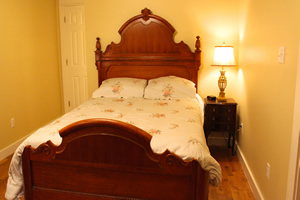 PhotosReserve NowFrom $109 per night.
Reminiscent of true elegance this suite will take you to a peaceful garden through the French balcony doors or while relaxing on the unique oak queen bed. Period furniture includes an elegant hand carved Victorian desk, a burl oak chest of drawers and night table. A reading chair sits in the bay window overlooking the garden below. Requested by many, this room will exceed your expectations and inspire applause.