Our History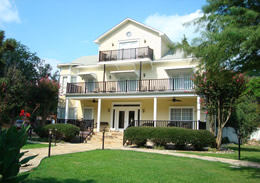 The Clark House
The Clark House Bed & Breakfast sets on an acre of the original four acres of property formerly known as the Oaklea Mansion and Manor House.
The Clark House was built in similar style and decor as the Oaklea Mansion, capturing the opulent romance of another era in Winnsboro, only a 90-minute drive from Dallas. The Clark House was originally built in 2001, and is filled with rich character and true Old World charm. The Clark House offers an extraordinary, restful and luxurious retreat from busy schedules.
The Clark House on Cedar Street and the upcoming Clark House on Main Street set on over two acreas of beautiful East Texas landscape with beautiful ponds, fountains, and flowers. Inside the Clark House are rooms filled with antiques, heirlooms and rare collections.
The Oaklea Mansion
(Historic Landmark)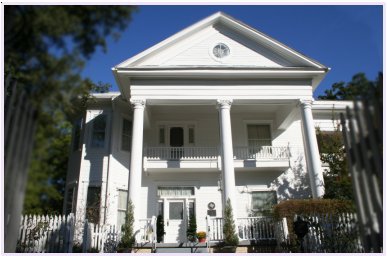 Next door to our Clark House Bed & Breakfast, you will find the Oaklea Mansion (no longer a bed & breakfast) that was originally the Carlock Home, built in 1903. This colonial mansion was built by Marcus DeWitt Carlock, Sr.. Mr. Carlock was a prominent early-day attorney, confederate courier, political leader, friend of Governor Jim Hogg and a member of the electoral college that named Woodrow Wilson as President. Mr. Carlock entertained many high officials in his home. The house contains a stairway of rare, curly pine, 17 rooms, 53 windows, 4 porches, 6 columns, double floors, 5-ply walls and a foundation that has enough brick to build a 5-room house. The Carlock Home was recorded a Texas Historical Landmark in 1966.
Find out more about the property: www.clarkhousewinnsboro.com/oakleamansion