Ammenities
Traditional Bed & Breakfast With Luxury Amenities
Common Living Room and Kitchen
Clark House offers all guests access to the common living room and kitchen. This beautiful, warm and elegant sitting and meeting room provides guests with the comfort of twin facing couches with a classic and cozy heat providing electric fireplace. Wool rugs and unique furniture pieces invite you to relax and enjoy patio views of the lush backyard fireplace, garden and Koi pond. An extra-large wall mounted flat screen television allows one to enjoy a movie, morning news or favorite ball game. Custom oil paintings and beautifully framed art set the tone in this wonderful and inviting space. The room quickly converts to a large dining area and can accommodate up to 12 people. A small but complete cozy kitchen is decorated to perfection and provides a full-size washer and dryer,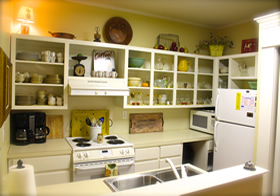 a large refrigerator and all kitchen appliances. Beautiful glassware and fine china are available and ready to meet and exceed your expectations.
The property displays turn of the century classic architecture but was actually newly built in 2000 and significantly renovated in 2014. The old world character remains including real 100 year old hardwood floors, timeless crown molding and elegant door and window frames exist throughout the property.


Garden Amenities
Just outside the common area living room is a stone covered shaded porch with steps that flow to the outdoor fireplace and unique Koi pond that blooms year-round. Sit on the porch or enjoy the large custom stone fireplace while the river stone waterfall provides a relaxing background circulating the fresh water for the many fish that call this lighted and landscaped Koi pond home.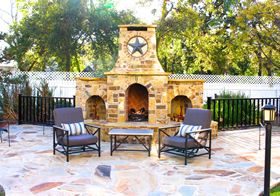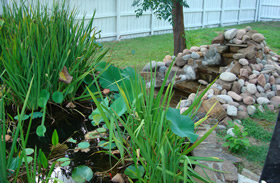 The entire stone patio i;s lighted with abundant seating and allows guests to enjoy a true outdoor luxury and relaxing experience. An enclosed guest activity room is available within the garden and the room is cedar paneled providing year round enjoyment.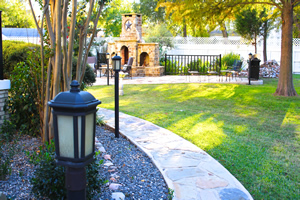 The garden area is diverse and characterized by modern stone garden improvements to classic rose bushes and flowering plants. The Koi pond blooms with elegant pink lilies and old-school cat tails seasonally. A rock fountain keeps circulating water clean and fresh for the fish and the relaxing and flowing sounds help relieve your stress and create a true relaxing environment. A flat grassy open space provides room for bocci ball games and plenty of space for an outdoor wedding or party tent for the most special occasions. Shade and seating is abundant in the garden area and gives guests a true resort experience. A large stainless steel gas grill is also available for use.
Private bathrooms
Desks
Flatscreen TV
Cable TV
Free WiFi
Balcony or porch access
Comfortable sofas and easy chairs
Home-cooked customized breakfast
Coffee & Tea available 24 hours
Guest Activity Room
On-site massage therapy by advancedd appointment
Common dining & living room
Fireplace in living room
Large flatscreen television in living room
Magnificant outdoor stone fireplace
Beautiful Koi pond and fabulous gardens